Gone in 30 SECONDS!!
Catalytic Converter theft has risen over 7000% since 2019. Beware and protect your buses!
Security for your Catalytic Converter
The
Davey Coach CatTRAP
!
Did you know thieves can steal a catalytic converter in less than 30 seconds? Catalytic converter theft can be devastating to your operation, leaving your bus grounded for weeks or even months as supply chain issues make timely replacement a challenge - not to mention having to face an unexpected and costly repair bill!
Davey CatTRAP provides: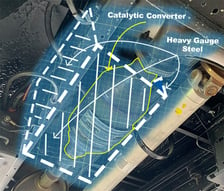 Peace of Mind – a sturdy theft prevention device will stop a thief in their tracks

Eliminate Downtime – from buses out of service

Time and Money Savings – avoid insurance claims and unexpected repair bills
Features of the exclusive Davey CatTRAP:
Two styles for different vehicle configurations:

CatTRAP1 - Heavy duty AR500 abrasion-resistant steel – bulletproof AND cutter-proof!

CatTRAP2 – Tough-to-cut ¾" braided stainless steel – extremely difficult and time-consuming for criminals to cut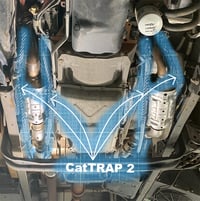 Both can be custom-fit around the catalytic converter without compromising bus performance – welded to fit specific models and deter criminals in both populated urban and opportunity-rich rural areas

Semi-permanent weld-in solutions for a stable, long-lasting installation

Detailed installation instructions provided with purchase for fast, local turnaround. Installation also available at any Davey Coach location in North America!


Fits all major bus makes & models - Customized options also available - Just ask us!
---
Connecting People to What's Important.
303-683-9500 | 800-873-1856