Operations and Coronavirus Updates
March 27, 2020
Davey Coach continues to stay operational to help our customers. We are taking extra precautions for vehicles being serviced AND vehicles being delivered.
Our service department has appointments available! Please contact us if you'd like to schedule an appointment with our Colorado Mobile Service Truck or at our south Denver location.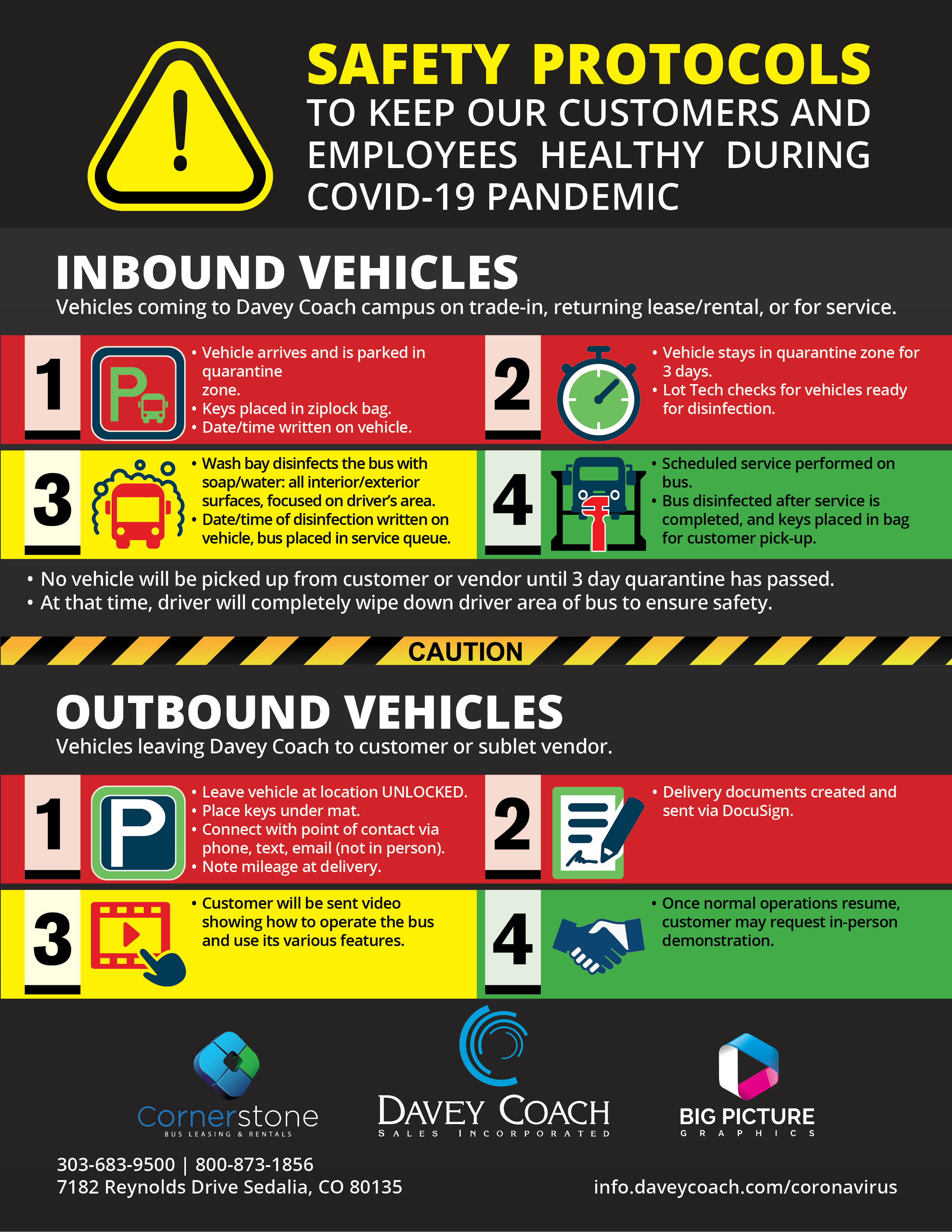 March 17, 2020
Davey Coach Sales Inc. and Cornerstone Bus Leasing and Rentals have taken measures to minimize chances of transmission of the COVID-19 virus between employees, customers, and trading partners, but our intention is to remain open and meet the needs of our customers. Triggered by school closures in Colorado last week, we immediately began setting up infrastructure to allow employees with school age children to work from home. As of this morning, all employees who do not need to be on site to perform their duties will be working remotely, and we encourage all customers needing service or parts to engage with us via telephone or email. Of course, service personnel need to be in our facilities to do their job, but to reduce risks we are temporarily staggering work hours. Be aware we have established a protocol to quarantine incoming buses for service work for three days to allow time for any possible virus contamination to expire before beginning work. At the conclusion of service work, Davey will clean the cockpit or driver's area to provide an assurance to customers. A similar protocol has been implemented for returning lease and rental buses. And for customer facilities and businesses on lock-down, we remind you Davey's mobile service truck is available to come to you to make repairs or perform preventive maintenance.

The core product of Davey Coach and Cornerstone typically has an extended life, and we encourage customers to continue to have dialogue with their sales rep about replacement decisions, but by telephone conversation or email. While there is no absolute guarantee, we do not anticipate this health crisis to extend deep into the months ahead primarily based on the pattern of contagion seen in other countries. Davey has built its business and reputation around carrying a sensible inventory of stock units, but many of our customers require specific or custom configurations which by necessity include manufacturer's lead times. It is worthwhile for discussions to continue if you do have an impending replacement decision to ensure you are able to receive your bus or buses as soon as possible.

Lastly, we offer a word of encouragement. Our nation has a history of resilience and a track record of rebounding consistently. Please take this COVID-19 matter seriously and practice the preventive measures recommended by the CDC to limit the spread and impact to your colleagues and family. Together we look forward to better days ahead.
March 13, 2020
Davey Coach Sales, Cornerstone Bus Leasing & Rentals, and Big Picture Graphics remain open and operational, but continue to monitor developments and efforts to minimize the spread of the COVID-19 virus. We prioritize the health and safety of our customers, employees, partners, and community members above all else. We are closely monitoring recommendations and evaluating ongoing guidance from the Centers for Disease Control (CDC) and the World Health Organization (WHO), as well as local and state agencies. We are particularly sensitive to our customer segments impacted the most, such as senior living and the hospitality industry, and invite dialogue on how to interact with your locations and staff, and comply with all measures you have put in place to limit the spread.
We completely understand travel restrictions and health guidelines related to the Coronavirus impact how and where our customers engage with us. Fortunately, we employ the tools to respond to change and plan for uncertainty. In an effort to provide stability and continuity for your transportation planning, we have adapted several of our policies around safety within the workplace, as well as our engagement with our customers.
Concerning our operations, Davey Coach Sales and Cornerstone Bus Leasing & Rentals currently deliver buses (both nationally and internationally); many customers do not need to come to our dealership in order to make their purchases. Our robust online inventory and experienced transportation consultants allow our customers to engage with us via email and telephone to purchase, rent, or lease buses that meet the needs of their organizations from the safety and comfort of their home or office. Because of our rigorous cleaning standards, we take every precaution to ensure that the bus is wiped clean before every delivery.
Additionally, our protocols at Big Picture Graphics have been reviewed to ensure cleanliness and safety for both employees and customers.
Should your organization be in a holding pattern as this health crisis is monitored and contained, please remember we have a bus parts department and service department available to assist with any regular maintenance or repair you may require to keep your vehicle operational.
Davey Coach Sales, Inc. Management
Local: 303-683-9500 | Toll-Free: 800-873-1856
www.daveycoach.com | info@daveycoach.com