Protect Your Passengers with Nanocide™ Technology
Antibacterial, antimicrobial
Safety for your passengers
Developed specifically for health care facilities, Nanocide technology is available for use on New and Used passenger buses. Davey Coach offers Nanocide technology, which kills bacterial growth, and shows a 99.9% reduction in test microbes in over 650 common bacteria.
Today's new Germ-Warfare vinyl covering tackles it all...
Eliminates unwanted microbes or germs

Kills bacteria in moments

Non-toxic & environmentally friendly - uses EPS registered Oeko-Tex source

Features a water-repellent surface and waterproof back coating

Abrasion resistant

Color-fade resistant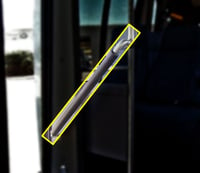 Entrance grab handles

Seating

Ceilings

Sidewalls

Headliners

Seat-back grab handles

And more...
Learn more today, submit your details to the right and we will get in touch with you.
Davey Coach is serious about protecting your driver and passengers!