Bus Driver & Passenger Protection Shields
FULL COVERAGE protection and FULL VISIBILITY for bus driver at main passenger entry/exit point (not air tight).

Several varieties of driver barriers available - contact us for your specific bus.

Passenger protection available with shields behind each row of seats.

Driver barrier swings on a hinge to allow driver to enter/exit, as needed, for emergencies.

Shield can be sprayed with disinfectant and wiped dry with microfiber cloth (included w/ purchase - additional cleaner available).

Instructions for installation included.

Shield can be removed later with minimal "scarring" to the vehicle.

DOT compliant materials.
HEPA Filter Protection
This high-capacity HEPA purifying unit will help clean the air to protect both driver and passengers. When used in conjunction with surface cleaning and sanitizing, it will help in eliminating harmful airborne particulates. The unit is ideal for all type of buses including tour, charter, school, commercial, paratransit, and city transit.
SPECIFICATIONS
Airflow: 140 CFM
Dimensions: 18.8" x17 x5.6
Weight: 20 lbs
HEPA MAX Filter: 99.99% efficiency to 0.3 microns

MADE IN USA
Nanocide Grab Rails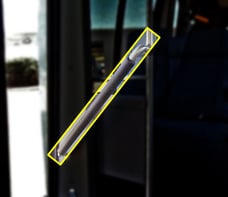 Nanocide

impregnated, germ-killing entrance grab handle covers.
Tested effective on over 630 germs and bacteria.

Available for entrance/exit grab handles, which is a high contact point for passengers.
*images enhanced for better visibility of shields